Laptop opladen met een powerbank
Geen geklungel meer met lange draden of zoeken naar een stopcontact. De laptop powerbank van Mobisun is dé oplossing voor het eenvoudig en mobiel opladen van een laptop of MacBook. Deze krachtige oplader voor de laptop biedt mobiliteit en extra energie waar en wanneer dit nodig is. De Mobisun power bank voor de laptop is lichtgewicht (slechts 1.144 gram), past goed in een aktetas of rugzak en sluit qua design naadloos aan bij de moderne laptops.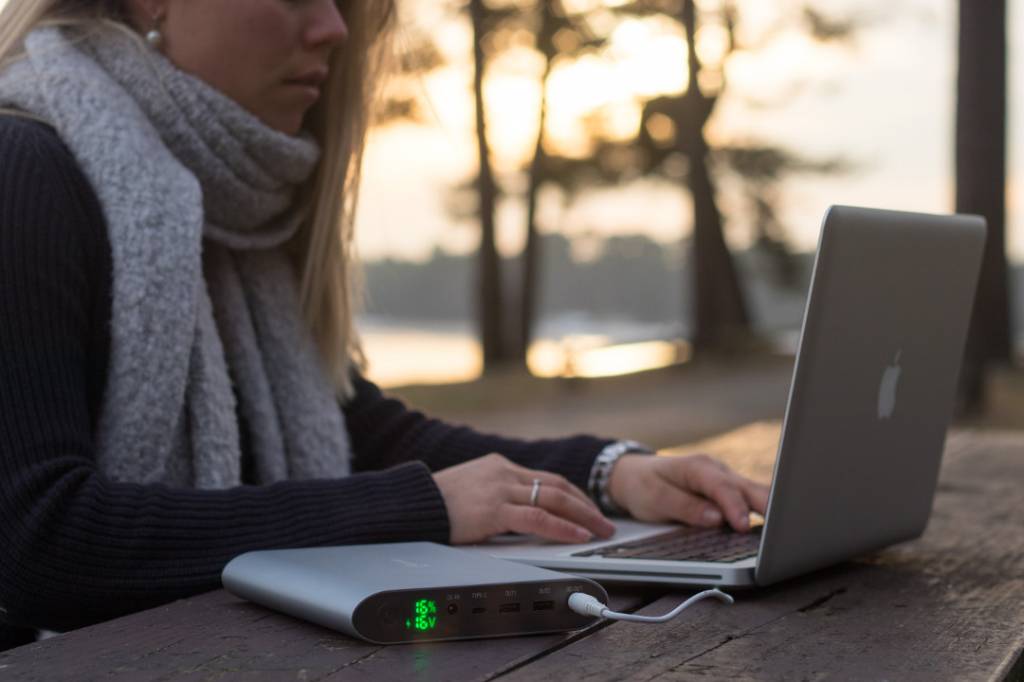 Over welke aansluitingen beschikt de laptop powerbank?
De laptop powerbank van Mobisun is de meest complete laptop oplader op de markt waardoor deze is aan te sluiten op vrijwel alle laptops en MacBooks. De Mobisun laptop en Macbook oplader wordt dan ook geleverd met een set aan accessoires (maar liefst 28 stuks) waarin vrijwel alle aansluitingen voor laptops en Macbooks zijn meegenomen. In combinatie met de hoge output tot maar liefst 94 Watt kunnen vrijwel alle laptops en Macbooks op de laptop powerbank worden aangesloten en opgeladen en kan voorkomen worden dat de batterij leegloopt.
De laptop powerbank van Mobisun is uitgerust met:
DC Ingang : 19V 2A adapter of Mobisun 60/100 zonnepaneel

DC Uitgang : 5V/8.4V/9V 3A (max) – 12V/16V/20V 4.7A (max)

USB type-C poort @ 5V 3.5A (max)

USB uitgang 1 : 5V/9V/12V 3A (max)

USB uitgang 1 : 5V/9V/12V 3A (max)
Met de Mobisun laptop powerbank kan je de volgende apparaten opladen:

Laptop (tot max 94W) met 28 type adapters

MacBook (Air / Pro / Retina) Magsafe 1 & 2 compatible

Digitale camera

Projector

PlayStation Portable

Draadloze router

Tablet

Smartphone

USB-lamp

Overige USB apparaten
De laptop powerbank kan hier worden besteld. 
Partners van dit artikel: